Ongoing development from Alasdair Southall & CDD
Alasdair Southall, founder and CEO of Classic Driving Development Limited, has been involved in the Automotive Industry for more than 45 years.
And for over a decade Classic Driving Development has been improving and enhancing the driving of classic cars.
Combining both traditional and contemporary engineering to produce British designed,
developed and manufactured improvements to classic cars:
• To make them more reliable and need less maintenance.
• To make them better, more rewarding, easier and more pleasurable to drive.
• To make them more able to meet the demands of modern traffic conditions.
• To make them more appealing to a younger generation of classic car driver.
POWER ASSISTED STEERING & CLASSIC CARS
Do you own a classic car and love everything about it except the heavy steering?
Does your wife or partner refuse to drive it, because they find the car difficult to steer or park?
And if you're not as young as you used to be do you find the steering heavy?
If the answer to any of these questions is "yes", then Power Steering for Classic Cars might have the answer.
Owned and run by classic car enthusiast and experienced automotive engineer, Alasdair Southall, Power Steering for Classic Cars specialises in developing power assisted steering systems for some of the world's favourite classic cars.
Nowadays no one thinks twice about fitting modern radial tyres, telescopic dampers, electronic ignition or modified cylinder heads allowing the car to run on unleaded fuel.
So, why not power steering?
These easily installed, unobtrusive, kits are available for: MGB, MGC, RV8, Triumph TR5 and 6, TR7 and TR8, various Morgans and, in the near future TR4A and Austin Healeys.
Each kit is designed and engineered for the particular model to reduce effort and stress while enhancing the dynamic response. By using modern components these mechanical-hydraulic systems eliminate unwanted mid-corner steering shocks whilst low speed manoeuvres or parking are made almost effortless. Being mechanical-hydraulic the power steering system gives much better 'feel'.
Your everyday car has power steering, so why not your classic car?
FIT, RELAX and ENJOY
Just as aircraft are not made of wood and canvas anymore hydraulic PAS systems have advanced. Design experience and modern methods of machining have made the pinion valve more precise, falling rate pumps (the faster they turn the less they produce) have added a sophistication of feel versus assistance. Other systems can do the job but not nearly so well.
Great driving and handling cars of the past, Porsche 911, Porsche Boxter, Lotus Excel and Lotus Elan M100 all had Hydraulic Power Steering. Lotus use an hydraulic system for the new Evora; Mercedes fit an hydraulic system to the new E class and the SLS and SLS AMG,
Aston Martin fit it to all their new model cars, Nissan fit it to the GTR, Ferrari to the new 458 and the greatest 2 seater of the last 15 years, the MX5 also has Hydraulic Power Steering.
So for real driving enjoyment choose Hydraulic!
Hydraulic power assisted steering has serious advantages over other systems when fitted to classic cars and will tell the driver exactly what's going on at the front wheels, giving involvement, great steering feel and reward and it is the type of steering that would have been fitted when the car was made.
Other advantages are: no foot well intrusion, no extra strain on the vehicle electrics, new steering rack with less turns lock to lock and in most cases added safety benefits in the form of double jointed steering column.
If hydraulic power steering is seen to have a draw back it is the fact that the pump in running all the time, in fact this is what gives the system its immediacy, its feel and its responsiveness. The 'extra' fuel used is less than may be caused by a headwind or low tyre pressures let alone enthusiastic driving.
Until very recently no Electric Power Assisted Steering (EPAS) system has had any real feel, only now have the large manufacturers artificially built in feel, some more successfully than others, by using sensors, computers and purpose made steering columns and racks. Electric Power assisted steering is usually fitted to front wheel drive cars.
When EPS is retro fitted to classic cars it still uses the existing steering box or rack. These have the original number of turns from lock to lock and do not take the advantage of being able to 'quicken' the steering to the 'ideal' 2.8 turns lock to lock, also the wear and backlash in the original system remains.
British classic cars such as MGB, TRs, Austin Healey and Morgan do not have a lot of room in the driver's footwell; this is where EPS is fitted, taking up what little spare room there is and often intruding on the space needed for the drivers legs and knees. This has to be considered hazardous in the event of an accident and compromises comfortable every day driving.
Although the EPS system may come with its own wiring it still has to draw its considerable currant demand of 45 to 90 amps from somewhere, be it battery or alternator. An hydraulic PAS system is a better, more driver orientated, more understandable and appropriate system for a rear wheel drive classic sports car.
BRIEF EXPLAINATION OF THE VARIOUS TYPES OF POWER ASSISTED STEERING
Mechanical Hydraulic Power Assisted Steering (MHPAS) Engine driven pump delivering fluid to an hydraulically assisted steering rack.
Electro Hydraulic Power Assisted Steering (EHPAS Electric motor driven pump delivering fluid to an hydraulically assisted steering rack.
Electric Power Assisted Steering (EPAS) Electric motor helping to turn, through gears, the steering column or sometimes the steering rack.
Power Steering (PS) No mechanical linkage between steering wheel and road wheels.
Steering is accomplished by a remote unit sending electric current or hydraulic pressure to the steering mechanism which moves the road wheels.
Power Assisted Steering (PAS) There is a mechanical connection from the steering wheel to the road wheels; this connection is assisted in turning by electric current or hydraulic pressure.
Information & Background to Power Assisted Steering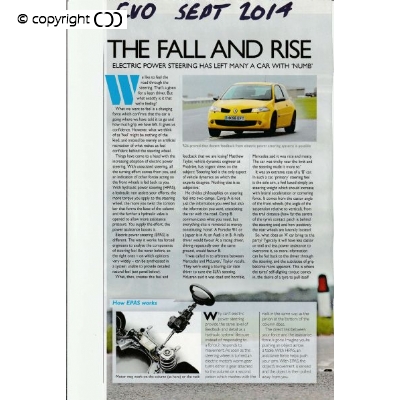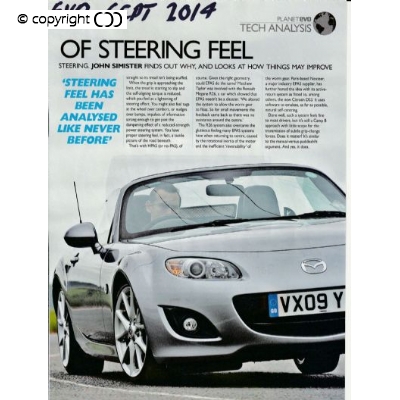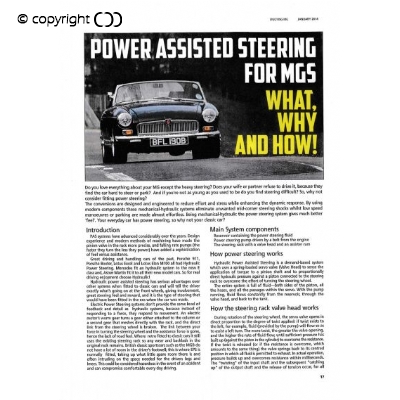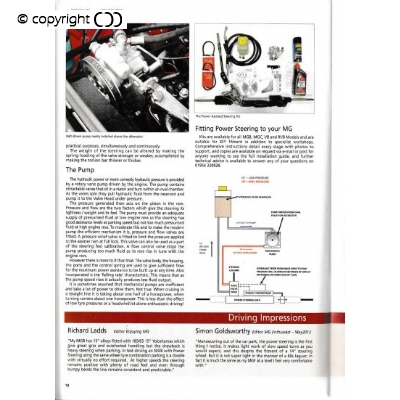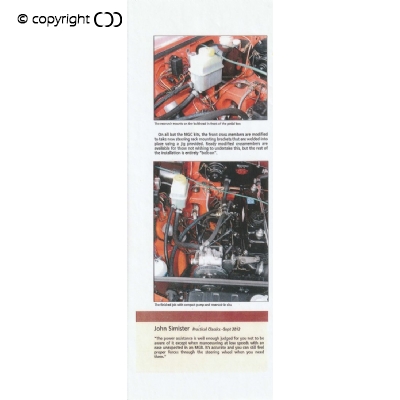 Alasdair Southall CAREER REVIEW
Speed Alert and speed limiter system: Being charged by a group of private investors to run a new company, SPL Technology, to exploit this new development in speed awareness / speed limiting products and to develop new versions.
MGB power steering: Initiated and engineered power assisted steering for the range of MGB variants including RV8. Project sold to MG Owners Club. Citroen Berlingo AL4 automatic: Developed and built an automatic transmission conversion for the Citroen Berlingo for Citroen client Hammersmith and Fulham Council, using an electronically controlled gearbox and integrating 4 computers.
ZF gearbox agreement ref Citroen: Responding to a request from Citroen, led a small team that developed an automatic transmission conversion for petrol and diesel engined Citroen vans using ZF transmissions; these being approved by ZF and recommended by Citroen. Planning and coordinating a Brite Euram CRAFT project involving 9 British, Belgian, German and Danish companies.
Renault Espace: engineering the first Renault Espace automatic, subsequently sold through the Renault dealer network. Numerous Ford power steering and automatic conversions: working with a small team designing, engineering and developing conversions for Ford cars and vans including 4x4 automatics.
TVR Sports Cars: obtained full Type Approval Certification for the 3 variant range of TVR cars, plus, created and implemented Conformity of Production quality assurance system. Member of the SMMT Low Volume Producers Legislation Group. Engineered the 'T' series chassis. Ran the body moulding department and achieved 25% increase in production with same number of staff.
Technician Apprentice at Hawker Siddeley Aviation. In my final apprentice year I was selected to be one of the forty people working on the holding programme for the design and testing of the 146 main landing gear.
MGC MG Enthusiast Article - new balljointed suspension click to view or print
CDD Product Price List
All prices are + VAT at the rate ruling when despatched Payment by Credit Card will incur a 2% surcharge
CDD fitting service available for all products
CLASSIC DRIVING DEVELOPMENT LTD Registered in England – Company Number 07841972
Dear customer
Price increases for 2022
As i am sure you are aware there are serious supply problems in the sourcing of materials; steel, aluminium, plastics & oils in the engineering sector.

Not just in sourcing but getting proper quality.

Prices are literally changing by the month and promised delivery dates are arbitary.

We are endevouring to get back to our normal 'off the shelf' supply, and we are getting there, but we are not amazon!

Therefore we have implemented price increases to some of our products to enable us to claw back our necessary margin so we can be here to supply you in the future and to continue our work developing new and improved parts & products.

Thank you for your loyalty and continued business in these troubled, 'interesting' times.
Yours
Alasdair Southall - Director
CLASSIC DRIVING DEVELOPMENT LIMITED
DRIVELINE, POWER STEERING AND SUSPENSION PRODUCTS AVAILABLE FOR:
Triumph TR 4A TR 5 TR 6 TR 7 TR 8 STAG Innsbruck Spitfire GT6 & Vitesse TVR M Series & TVR Vixen MGB MGC Morgan Austin Healey Jensen