CLASSIC DRIVING DEVELOPMENT LIMITED
DRIVELINE, POWER STEERING AND SUSPENSION PRODUCTS AVAILABLE FOR:
Triumph TR 4A TR 5 TR 6 TR 7 TR 8 STAG Innsbruck Spitfire GT6 & Vitesse TVR M Series & TVR Vixen MGB MGC Morgan Austin Healey Jensen

MGC BALL JOINTED ANTI ROLL BAR LINKS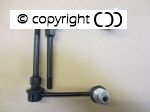 This link connects the lower suspension arm to the anti roll bar.
With the standard link a lot of effort is put into twisting the two rubber bushes. This is inefficient and dulls the driving experience.
The use of ball joints gives very low friction and very high precision so it vastly reduces the resistance on the link joining the suspension to the anti roll bar, giving more response and a better drive.
Unlike 'Rose' joints these links with their sealed pre lubricated ball joints last a long time and do not transmit NVH (Noise, Vibration, Harshness)
This kit compliments and enhances the fitment of larger diameter anti roll bars and 'poly'bushes.