CLASSIC DRIVING DEVELOPMENT LIMITED
DRIVELINE, POWER STEERING AND SUSPENSION PRODUCTS AVAILABLE FOR:
Triumph TR 4A TR 5 TR 6 TR 7 TR 8 STAG Innsbruck Spitfire GT6 & Vitesse TVR M Series & TVR Vixen MGB MGC Morgan Austin Healey Jensen

TRIUMPH TR8 POWER ASSISTED STEERING
PAS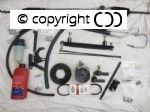 TR8 POWER ASSISTED STEERING
A straight forward, cost effective, robust power assisted steering conversion is now available for RHD and LHD Triumph TR 8 / TR 7 V8.
The availability of this conversion enables old PAS systems, which are renowned for leaking and being very light with little feedback, to be replaced with improved up to date components and LHD cars to be easily converted to RHD.
Features an engine driven falling rate pump this is a mechanical hydraulic system with a rack that gives 2.84 turns lock to lock (manual 3.9). This PAS system rewards with good 'feel' on the open road, quicker steering and much reduced effort at parking speeds.
Pump drives are available for V belt and serpentine belt engine variants.
FEATURES
2.84 turns lock to lock
Solid rack mountings
Simple 'bolt on' kit
New or reconditioned rack available
Kit contains everything needed
OPTIONAL ITEM
New anti-roll bar mounts to increase castor by 1.3 degrees and give
An element of anti-dive, also better self-centring and slightly more 'feel'.