CLASSIC DRIVING DEVELOPMENT LIMITED
DRIVELINE, POWER STEERING AND SUSPENSION PRODUCTS AVAILABLE FOR:
Triumph TR 4A TR 5 TR 6 TR 7 TR 8 STAG Innsbruck Spitfire GT6 & Vitesse TVR M Series & TVR Vixen MGB MGC Morgan Austin Healey Jensen

MORGAN POWER ASSISTED STEERING
MORGAN PAS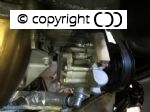 FEATURES
2.9 TURNS LOCK TO LOCK
BOLT ON FITTING
NO WELDING
NO WIRING
NO COCKPIT INTRUSION
RHD & LHD
SIMPLE & EFFECTIVE
The systems fitted really do solve the problem of very heavy steering at low speeds while still giving the feel, feedback and enjoyment out on the open road. It just makes driving a Morgan more relaxed and enjoyable.
The systems are mechanical hydraulic and speed sensitive. The fitting of most systems does not involve any drilling or cutting; there is no wiring or welding and no footwell intrusion. The system is fail safe and can be returned to original leaving no evidence of the conversion.
Some customer comments:
A Zetec engine steering box car converted to Power Assisted Steering: 'The car is Magic with the new steering.'
A 3.7 Roadster: 'The car is now as it should be. Fabulous. Thank you so much.'
A Plus 8 owner: 'You will be pleased to hear that the steering is much, much better! It now has a nice weighted feel, both at slow and high speeds. I've driven over 2000 miles since fitting and am now very happy with the set up.'
MORGAN POWER ASSISTED STEERING PRICES:
| | |
| --- | --- |
| Roadster V6 3.0 (not aircon) | £ 2250.00 |
| Roadster V6 3.7 (not aircon) | £ 2250.00 |
| +8 Rover V Belt & Serpentine | £ 2200.00 |
| ZETEC Engined Models | £ 2100.00 |
| DURATEC Engined Models | £ 2100.00 |
| Steering Box Models supplement | £350.00 |
| Fitting by Classic Driving Development | £450.00 |
CLASSIC DRIVING DEVELOPMENT LTD. Tel 07812 766789
jomarpas@hotmail.co.uk www.powersteeringforclassiccars.co.uk
Many things have been said about the steering system of Morgans, some true, some exaggerated and some untrue. Generally it seems to be agreed it is not the marques finest feature.
The system designed for the Morgan is an engine driven mechanical hydraulic system with falling rate assistance, which means low effort for parking and manoeuvring, but with good feel and feedback on the open road making your Morgan feel more responsive, easier to control and much more reassuring to flick through corners
FIT, RELAX and ENJOY
Press Articles
THESE ARE SOME OF THE COMMENTS MADE BY THE MOTORING PRESS ABOUT THE STEERING OF MORGANS. THE FITMENT OF OUR POWER ASSISTED STEERING WILL CURE MOST OF THE LESS DESIREABLE TRAITS.
Morgan +4 steering box:

These comments from the Autocar Road Test: With its primeval front suspension, virtually extinct worm and nut steering and crude leaf sprung rear axle. It would be unrealistic to expect much in the way of handling finesse from the Morgan. Yet on smooth roads few would find its chassis behaviour wanting. The major drawback is the heaviness of its steering on lock at any speed. Even sitting close to the steering wheel in traditional style, it requires real physical effort to wrench the 4/4 round a tight bend. Criticising Morgans for their heavy steering, of course, is nothing new, and it is encouraging to note that about the straight ahead position, the steering is reasonably light and precise with less 'free play' than we encountered on the Plus 8.
Morgan +8 steering box type: very heavy with a lot of kick back
Morgan +8 with steering rack:
This from the Autocar Road Test: Part of the problem is the steering, which manages to combine the two faults of being both excessively heavy and worryingly slow (3.0 turns lock to lock), with a vastly oversize steering wheel to control it. As a result, you end up steering from the shoulders, leaning into corners and bracing your weight against the wheel, feeling for all the world like a Bentley Boy on a qualifying lap at Brooklands. This is all very well until the power finally overwhelms the grip of the 205/55XZR16 Pirrellis and the back end steps out. You then have fractions of a second to unwind the steering, apply the corrective lock and slingshot out of the corner in a perfectly controlled power slide. Get it right and you will be congratulating yourself for years to come; get it wrong and you will be sweeping up wood splinters from the gutter.
Morgan Roadster V6 2004:
From the Autocar road test: The heavy steering doesn't help. Turning the wheel is like bending a piece of metal, and it kicks and writhes in your hands. There is a certain satisfaction in manhandling the car along a difficult road, but it's an exhausting exercise.
3.0 turns lock to lock.