CLASSIC DRIVING DEVELOPMENT LIMITED
DRIVELINE, POWER STEERING AND SUSPENSION PRODUCTS AVAILABLE FOR:
Triumph TR 4A TR 5 TR 6 TR 7 TR 8 STAG Innsbruck Spitfire GT6 & Vitesse TVR M Series & TVR Vixen MGB MGC Morgan Austin Healey Jensen

TRIUMPH IRS NEW REAR HUBS
New Rear Hubs for Triumph IRS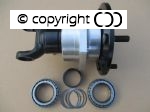 for Triumph Independent Rear Suspension (IRS)
Fitted to TR4 IRS, TR5, TR6, STAG, INNSBRUCK & TVR 'M' Series
THE REDESIGNED, MADE FROM NEW COMPONENTS, TRIUMPH REAR HUB UNITS SOLVE THESE PROBLEMS AND PROVIDE IMPORTANT UPGRADES.
Splined shaft and flange construction does not need 'big' pullers to separate
Bearings are solidly spaced using shim washers so do not go out of adjustment
Wear compensation is easily accomplished with DIY tools.
Because of this the flanges are not distorted so do not need skimming.
And driveshaft joints do not need to be disassembled so often
Thread to shaft diameter is increased by 85%
Flange design has increased diameters and radii to stop cracking and failure.
Bearing sizes are increased and bearing design has been validated by Timken UK.
Only Top quality materials, bearings and seals are used.
No Cheap Far East bits!