MGC
The MG MGC products developed by Classic Driving Development.
ANTI ROLL BAR CLAMPS
ANTI ROLL BAR CLAMPS
ALL ANTI ROLL BARS CAN TRY TO MOVE SIDEWAYS BEFORE TWISTING.
THIS IS WASTED MOVEMENT AND INEFFICIENT.
THE CLAMPS STOP ANY SIDE WAYS TRAVEL, INCREASING THE IMMEDIACY AND EFFECTIVENESS OF THE ANTI ROLL BAR.
THE CLAMP, BOLT, NYLOC & WASHERS ARE ALL STAINLESS STEEL.
SIZES AVAILABLE 9/16 5/8 3/4 7/8 dia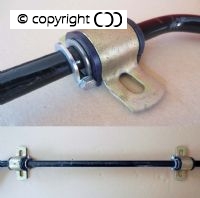 ANTI ROLL BAR CLAMPS